All concerts take place at the Rock on Locke -
​St. John the Evangelist Church, ​320 Charlton W., Hamilton, ON
To receive notices about future events, join our mailing list (
HammerBaroque@gmail.com
) and like us on Facebook!​
The Tafelmusik Baroque Orchestra came to Hamilton for an unforgettable performance of some of their core repertoire last Wednesday night. If you weren't one of the lucky ticket-holders for this event, don't worry- they will be back!

The ministry and volunteers at the Rock on Locke, the Hammer Baroque volunteers, ​​and Venue Director Steve McKay helped everything run smoothly, even when the church was filled to capacity. And the orchestra, of course, played beautifully. Under the direction of guest soloist Catherine Manson of the London Haydn Quartet, we heard the music of Bach, Vivaldi, and Telemann played with the precision and conviction that has made Tafelmusik an ensemble of international renown. We wish them all the best on their future Ontario tour dates, and thank them sincerely for making Hammer Baroque a part of their touring season.
Please join us at the Rock on Locke for a second season of fantastic early music concerts!

The season gets under way with an appearance by the Eybler string quartet. These Tafelmusik musicians will give us a preview of their next commercial recording: the quartets of Vanhall.

Later in the month, Burning River Baroque, an exciting ensemble from Cleveland, Ohio, presents a programme of Italian songs of adoration, desire, and remorse.

In October, Hammer Baroque's ensemble in residence, Capella Intima, will sing a programme pairing English madrigals from the late 16th century with part songs and glees from the 18th. (*warning: language!*)

Other events this season include a violin extravaganza, featuring some of Toronto's finest baroque players in a programme of Bach unaccompanied sonatas and partitas; a Canadian debut recital by a rising star countertenor from the United States; a visit from the Spiritus Ensemble from Kitchener​​​​​​​​, performing Bach cantatas with orchestra; and...fingers crossed...a potential return visit from the world-renowned Tafelmusik Baroque Orchestra!

Capella Intima will also be presenting two very entertaining concerts later in the season- both made possible by the continued support of the Ontario Arts Council: A Venetian madrigal comedy by Banchieri, with masks, projections, and a few surprises; and a CD Release concert for our debut recording on the Musica Omnia label, of sacred-yet-saucy canzonettas from Northern Italy.

As always, regular concert admission is by suggested donation, and all proceeds (after expenses) are passed on directly to the artists. Please be generous!​​​​

Monthly updates on HAMMER BAROQUE events can be received via email by joining our mailing list, and "liking" us on Facebook. HammerBaroque@gmail.com

And, finally, if you would like to know more about the performers, you can find them right here:

www.Eyblerquartet.com
www.BurningRiverBaroque.org
www.CapellaIntima.com​​​​​​​​
If you missed the last Hammer Baroque concert featuring Capella Intima, have a listen to these two well-known excerpts from the programme:

Thomas Tallis' "If ye love me"​
John Farmer's "Fair Phyllis"​​​​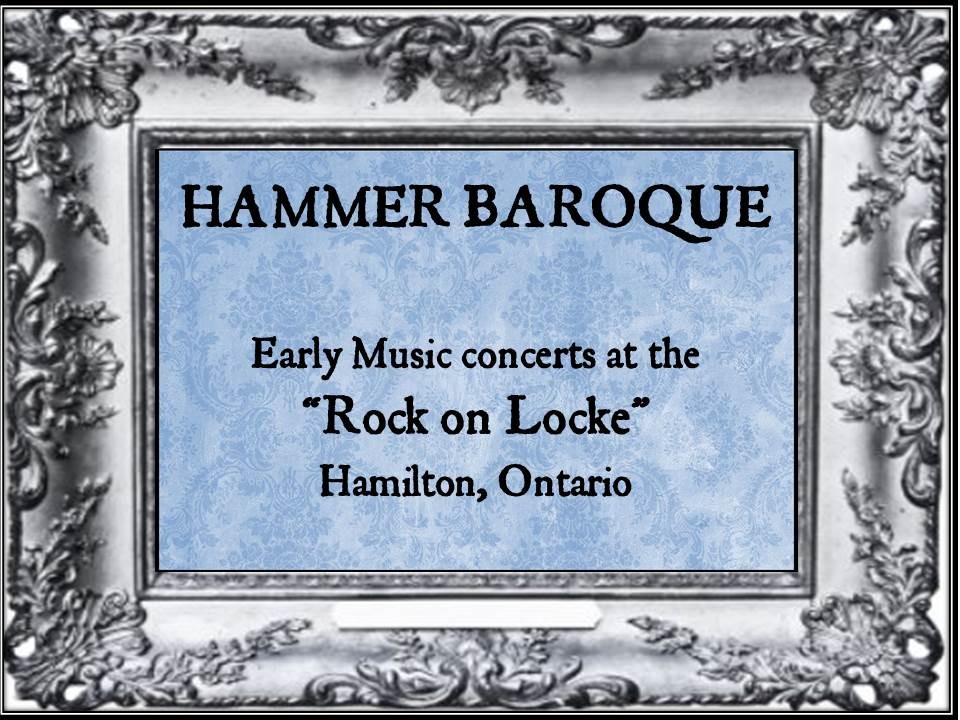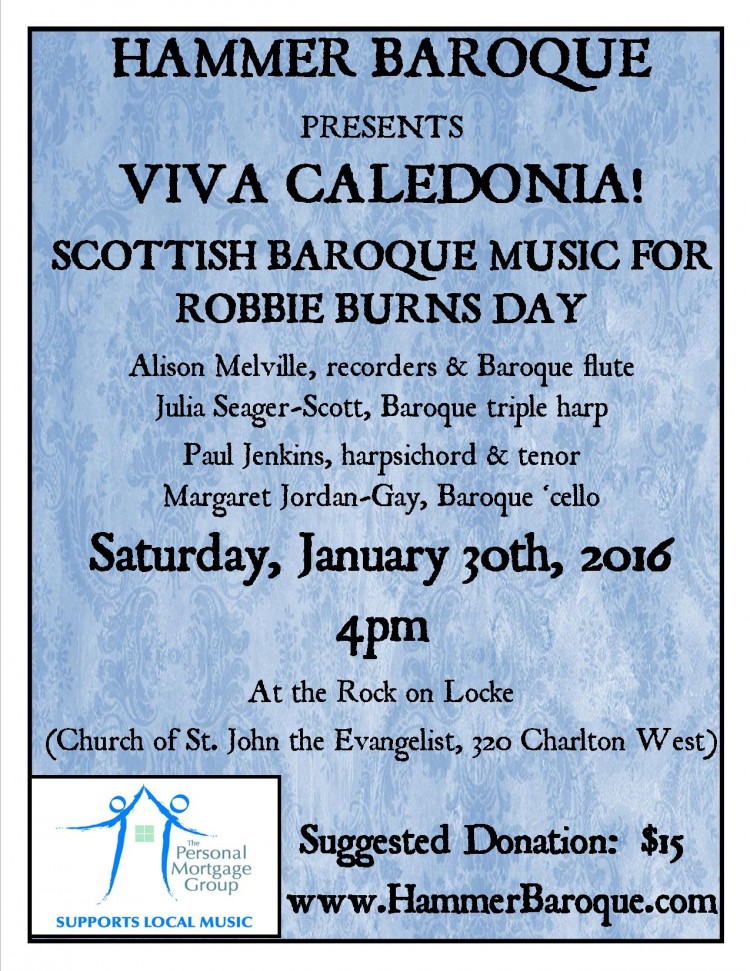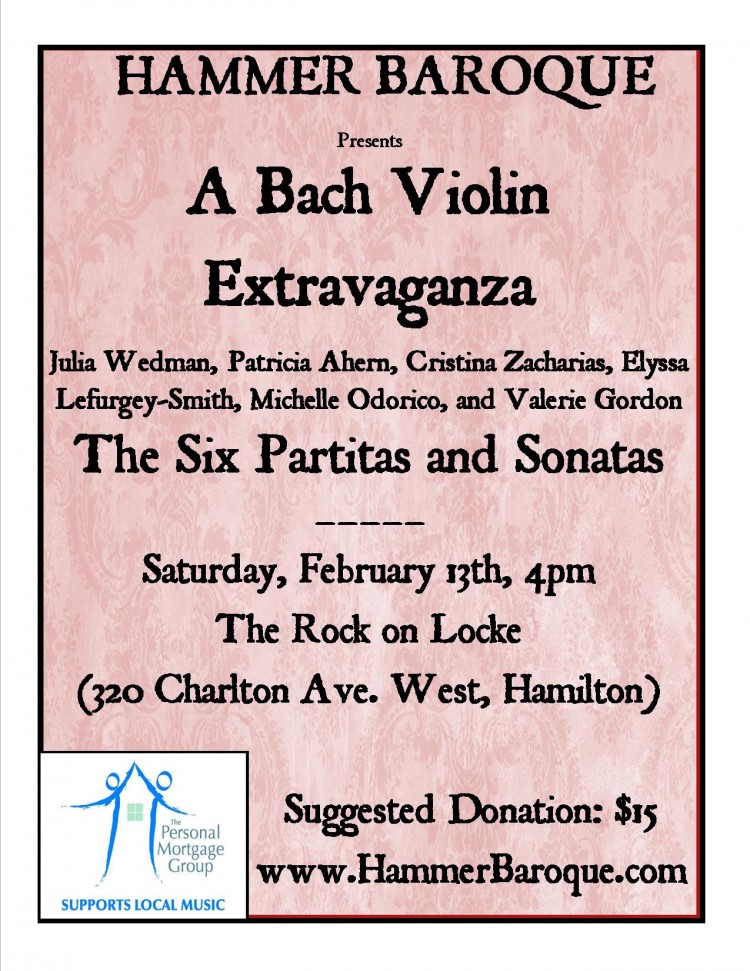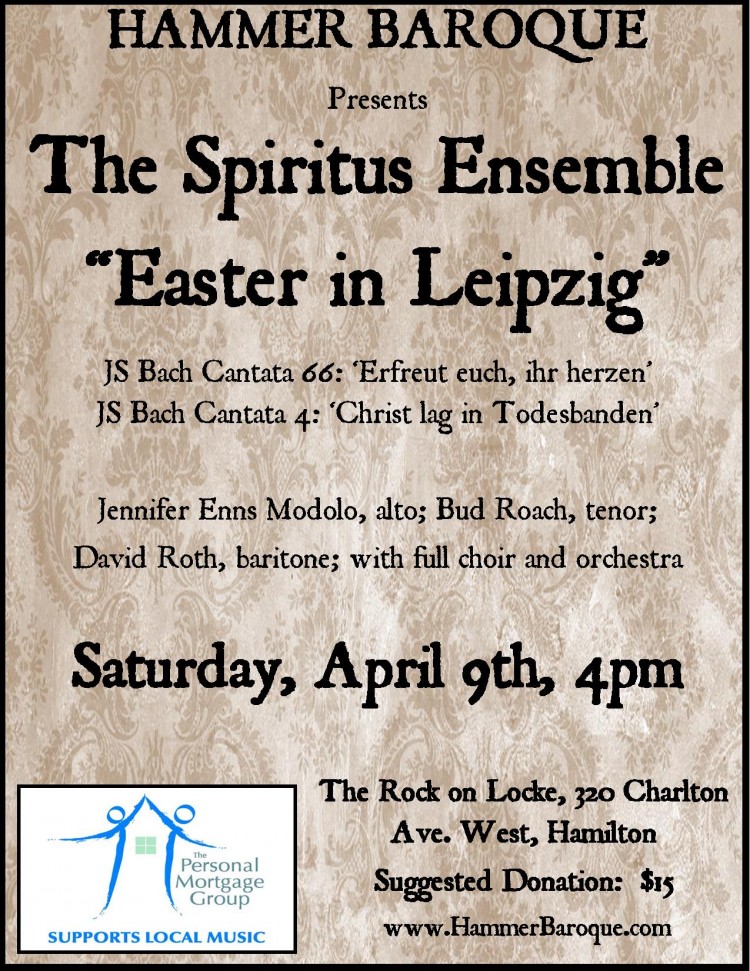 Many thanks to HAMMER BAROQUE patrons for making the Tafelmusik concert such a great success!
​
The Globe and Mail`s Robert Harris called this programme ``
phenominally inspired
`` music-making, and judging by the reaction on May 25th, Hamilton audiences heartily agreed! Tafelmusik has our deepest gratitude for sharing this beautiful programme.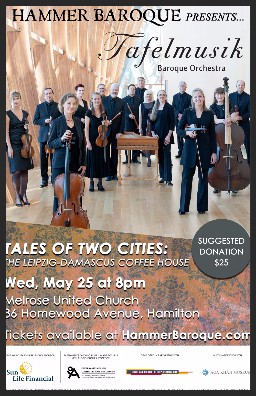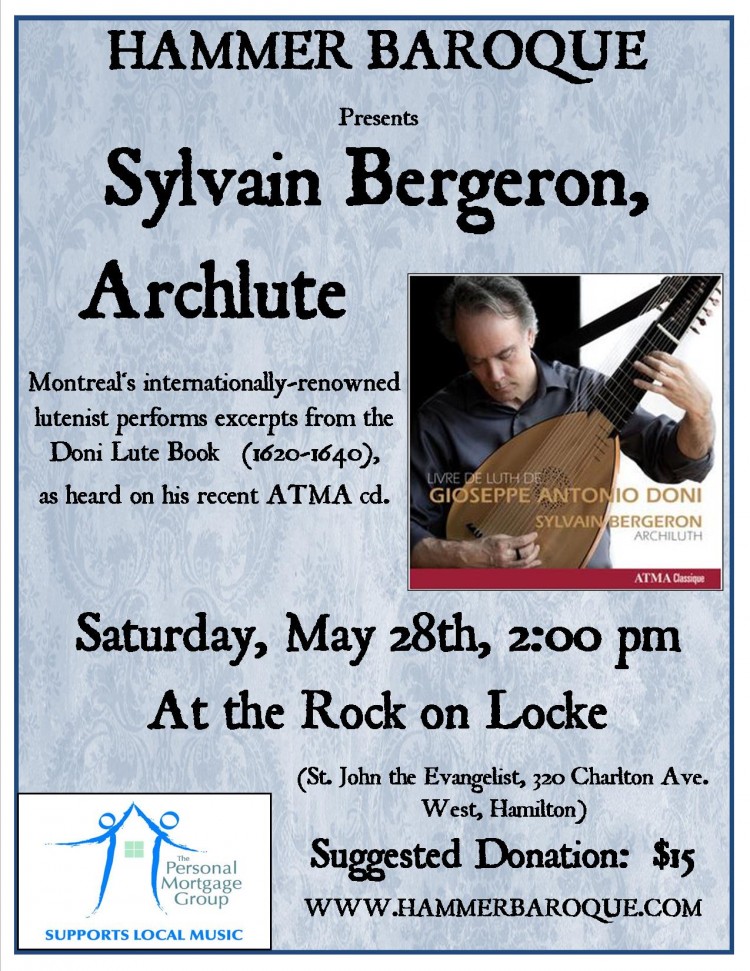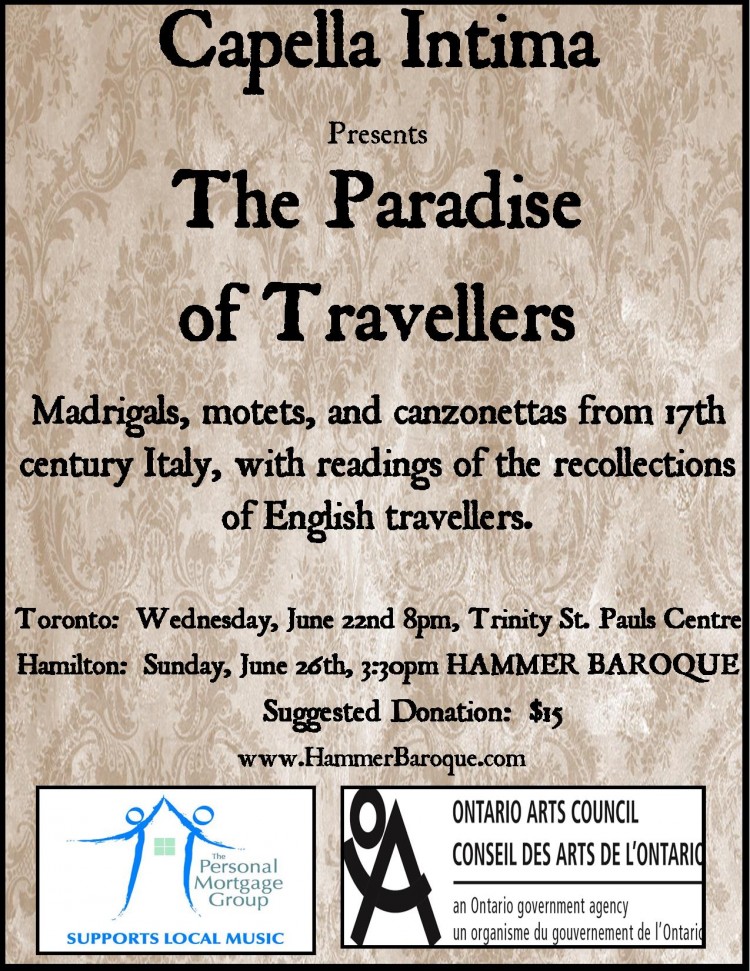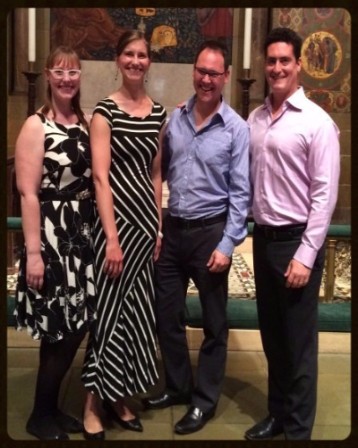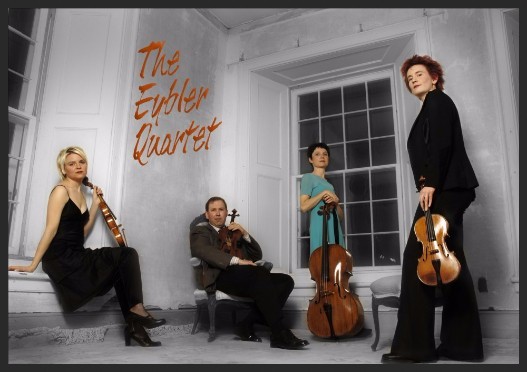 The 2016-17 season at HAMMER BAROQUE kicks off with a return visit from the Eybler String Quartet,
Saturday, September 3rd, 4pm
, with a twist- this concert takes place in the new arts space at the
Cotton Factory, 270 Sherman Street North
. Comfortable seating, easy parking, and wonderful acoustics for Beethoven are just a few reasons to check out this major hub of the Hamilton arts renaissance!
​​
​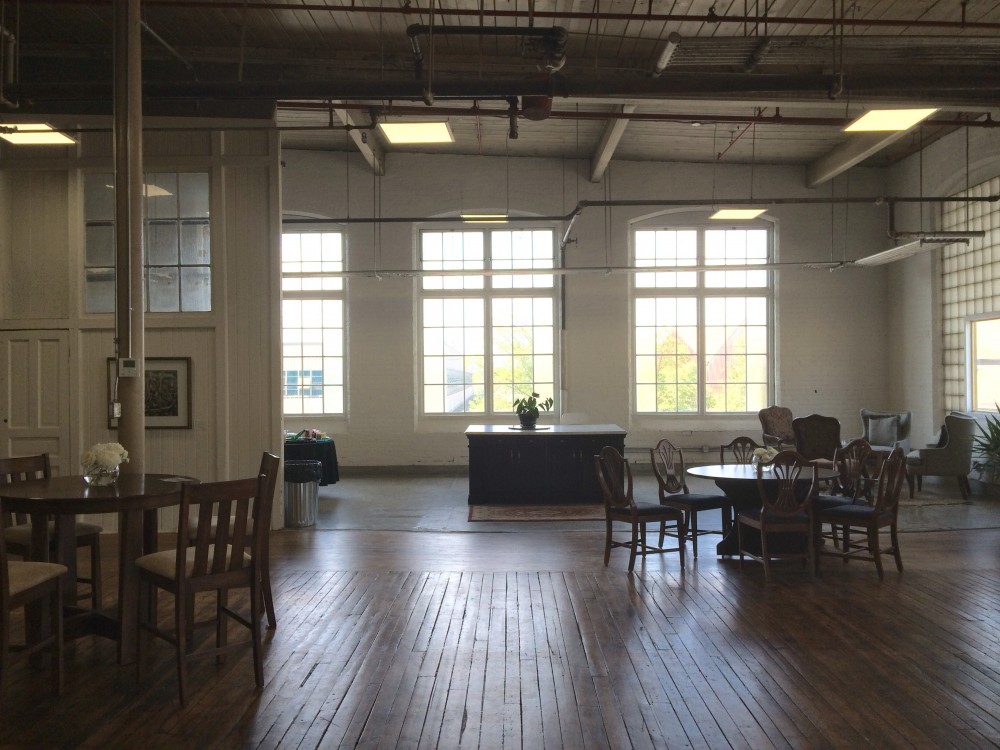 The workspace at the
Cotton Factory
is a beautiful venue for an afternoon of chamber music. Doors open at 3:30 for those who want to claim the cozy chairs!
Suggested Donation: $15​​
The Eybler String Quartet
Are you a new visitor to HAMMER BAROQUE?
​Welcome, and take a look at what we have presented in our first two seasons!
Welcome to the 2016-17 season of Hammer Baroque!
The remaining months of 2016 are full of excellent concerts, presented by some of Canada`s finest artists in historically-informed performance.



Saturday, September 3rd

: The Eybler Quartet returns, with a programme of Beethoven and Vanhal. See details below! (Note that this concert takes place at the Cotton Factory, 270 Sherman St. North)​​



Saturday, October 1st

: This event is not strictly a Hammer Baroque concert, but it does feature the resident ensemble Capella Intima, performing a short CD release concert of selections from their new recording of sacred canzonettas on the Musica Omnia label. ​​you can hear selections from the recording session here.



Saturday, October 8th

: The return of Alison Melville, leading the ACTA recorder quartet, featuring the music of Boismortier, J.S. Bach, and Mozart.



Sunday, November 13th, 4pm

: A very special event- The Toronto Consort presents ``The Italian Queen of France: The musical legacy of Catherine de Medici``. This performance comes to Hammer Baroque through the generous sponsorship of Michael and Catherine Clase.​​​​



Saturday, December 3rd

: The voices and instruments of Ensemble Alloro and the Rezonance Ensemble (Montreal and Toronto) present a beautiful musical journey from Advent to Christmas entitled ``Stella di Natale``, featuring Baroque favourites and traditional carols.​​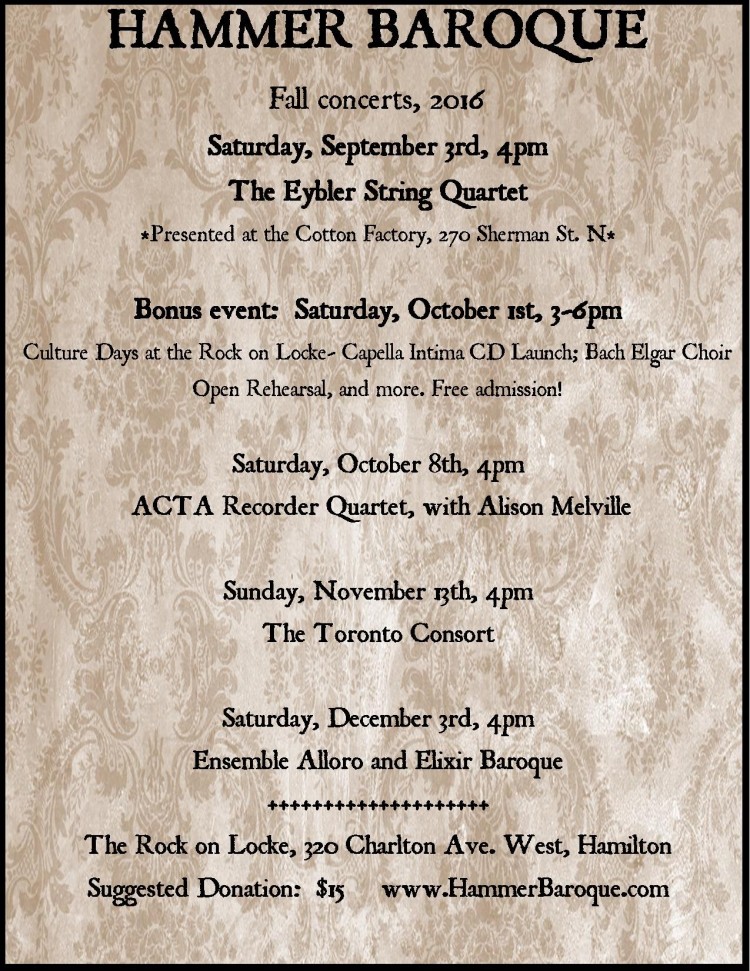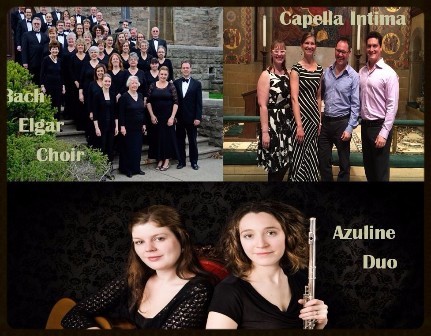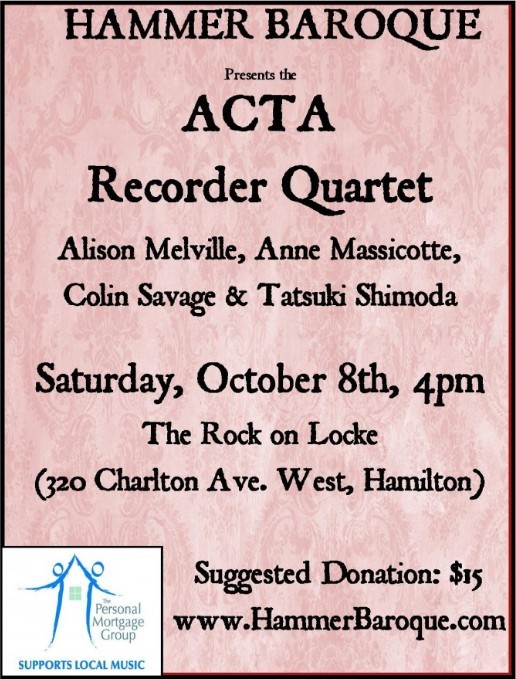 HAMMER BAROQUE Artistic Director Bud Roach spoke with Alison Melville at length recently, about her career in early music, and her life-long devotion to the recorder and historical flutes.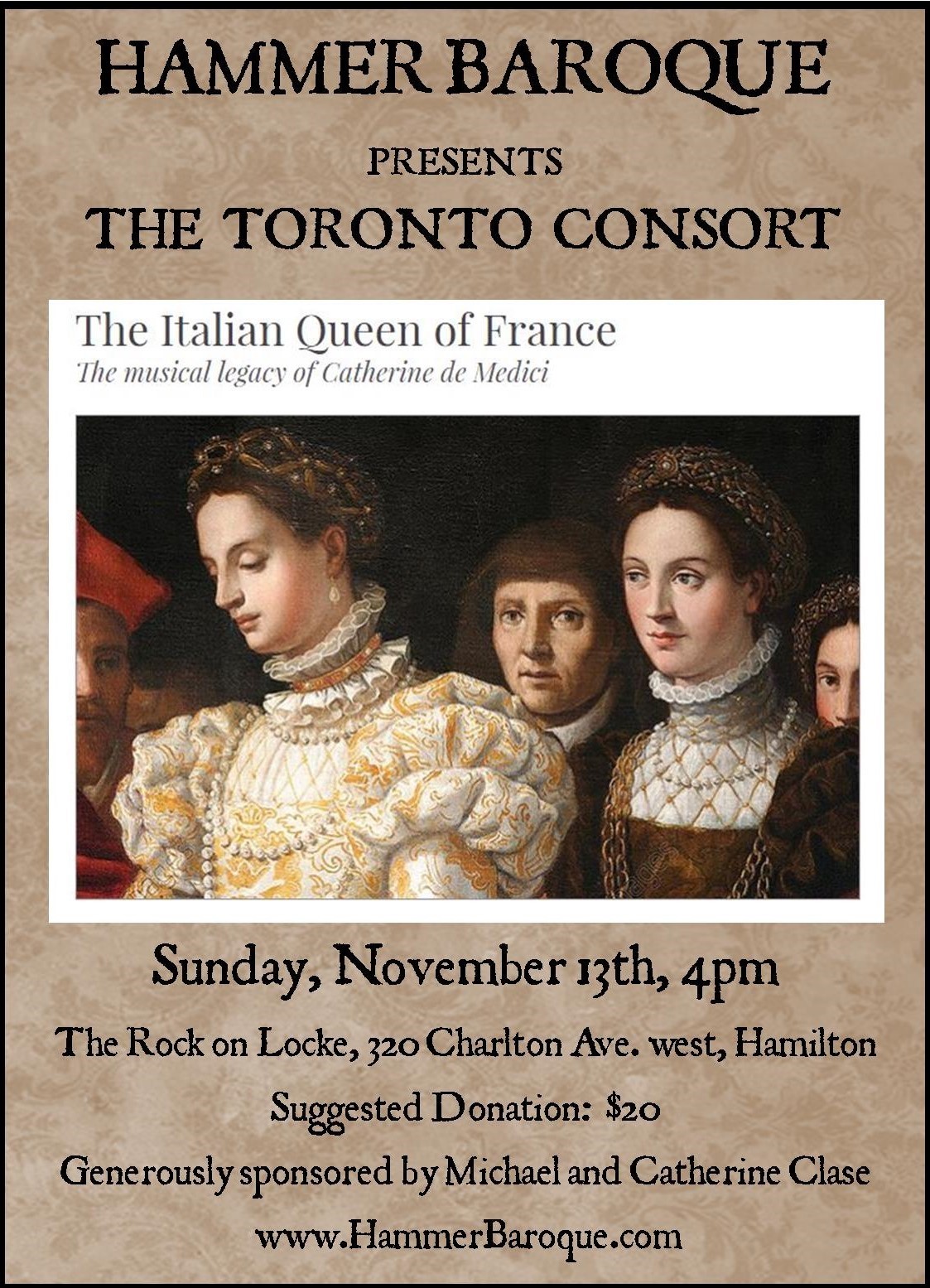 The Toronto Consort
makes a rare Hamilton appearance this Sunday, 4pm, at the Rock on Locke, made possible by the generosity of Michael and Catherine Clase.

​​The Consort`s Artistic Director, David Fallis, spoke candidly about the programme, and his career in early (and new) music.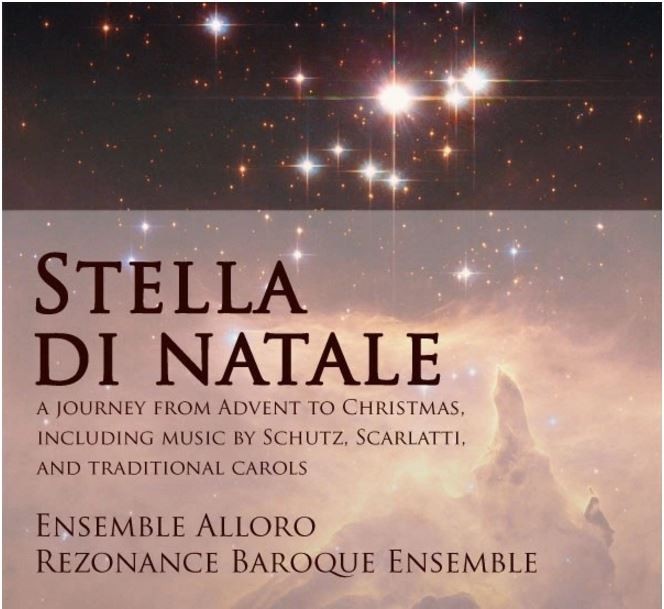 Ensemble Alloro and the Rezonance Baroque Ensemble present Stella di Natale, this Saturday, December 3rd, 4pm, at the Rock on Locke.

Suggested donation: $15​​
Church of St. John the Evangelist​
320 Charlton Ave. West, Hamilton​